Fresh Creative Co. were recently commissioned by Swansea Council to come to Loughor Skatepark and involve the local young people in painting a mural to help brighten up a wall in the skate park that was in much need of some attention.
Did you know, we also work with schools and community groups on similar workshops. Take a look here
The first part of any mural is the design. We chose to go with a rural countryside look for this one. With a couple of slightly more urban elements thrown in to give a nod to the background of skateboarding.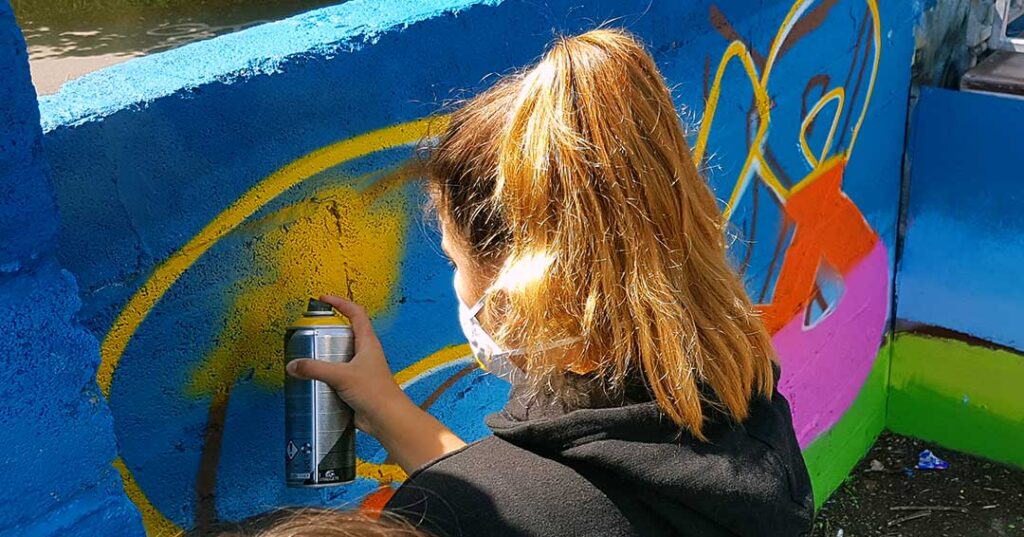 How do the sessions work?
We ran this session as a fairly informal style drop in session. Meaning that instead of having to book in in advance we simply spread the word that we would be there. Accepting anyone who turned up at any time during the day. Letting people get involved to help us with the mural.
This approach obviously isn't without it's risks. But a local fun day being held in the larger park where the skate park is situated helped. Combined with the foresight of local community youth workers enlisting a few helpers in advance. This meant that, despite clashing with a world cup match, we had a steady stream of young people throughout the day. Keen to muck in, put some paint on the walls and help improve their local environment.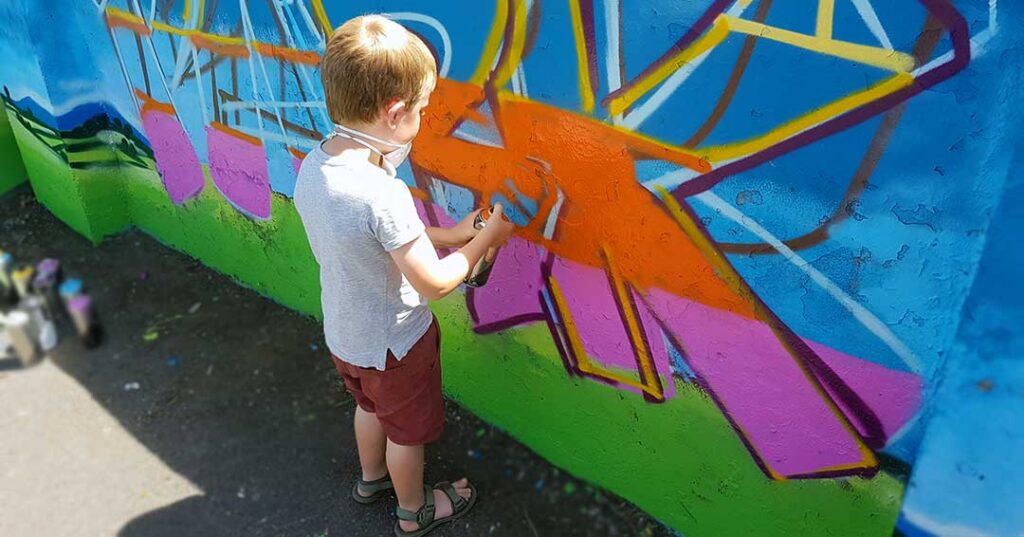 Preparation and setup
We arrived early in the morning and set about preparing the wall before anybody showed up. First we scraped down the wall, removing any loose paint from a previous work. As well as any moss and other plants that had grown over the wall.
We then swept the whole area, removing any broken glass and other rubbish from around the wall. This was to make sure that it was a safe place for both ourselves and the young people to work in (and ultimately skate in).
Next we emulsioned the wall. Working from the top down applying a three colour fade. With blue on the top half, followed by the same in green for the bottom half. This would form the basis of our background. Becoming the sky and the hills that you can see in the finished wall. We then marked up a rough outline of the different elements that would fill the wall. A bee, the words Sk8 Park, a graffiti writer character and finally an owl.
We then broke up these individual elements into different coloured sections for the workshop attendees to fill in. Essentially turning the wall into a giant paint by numbers picture. Alongside this we ran a short indoor session teaching how to draw graffiti style lettering.
Once we had some young people join us we set about helping them fill in the different elements on the wall. Teaching them how to use a can properly to achieve different effects. Such as fading colours into each other, shading, and getting clean lines and solid colour fills.
The Fresh Creative Co. team had a really great time at Loughor Skate park helping the local youth spruce up their environment and both us and them were really happy with the end results. We believe that it's so important for young people to have a hand in creating the community spaces that they use.
This can only help to create a sense of pride in the space, which in turn motivates the people who use that space to not only use, but also to help look after it and maintain it for themselves, and others in the community.
For any further information regarding this project or general enquiries, please get in touch with us by clicking here filling out the contact form.