Knipes & Co Bacon Specialists are a family run business that got in contact with us at Fresh Creative Co. to request the painting of the front of their premises in Swansea.
We were asked to replicate their logo on the front of their headquarters, along with their social media details. Always keen to take on any work that has the potential to come with a free bacon sandwich, we jumped at the chance to get involved.
Process
The first task for us to do was to design the layout for where the different elements would be placed on the building. We did this in Photoshop, choosing to place the logo centrally, high up on the front wall, with the web address and social media handles above the two shutters. Once this design was in place and signed off we set about preparing to go to site and lay some paint down.
We painted the wall over two visits. On day one we measured the wall and found and marked the centre of the building. From this centre point we marked out the three concentric circles that make up the Knipes & Co logo. Perfect circles are always tricky to paint large and concentric ones even more so. We achieved this using spray paint and a piece of string which together played the part of a primitive pair of compasses allowing us to get the circles the size we wanted whilst ensuring (by working from the same mid point) that they were accurately positioned both relative to each other and at the same time central on the building. In this case we marked out the large pink circle first, followed by the inner white circle before capping it all off with the outer white circle that gives the logo its outer trim. This layout was then filled in using spray paint and measured once more to check that everything was as it should be proportion wise. With this in place we then measured up the spaces for the lettering above the shutters and headed back to the workshop to do the necessary preparations for our return the following day.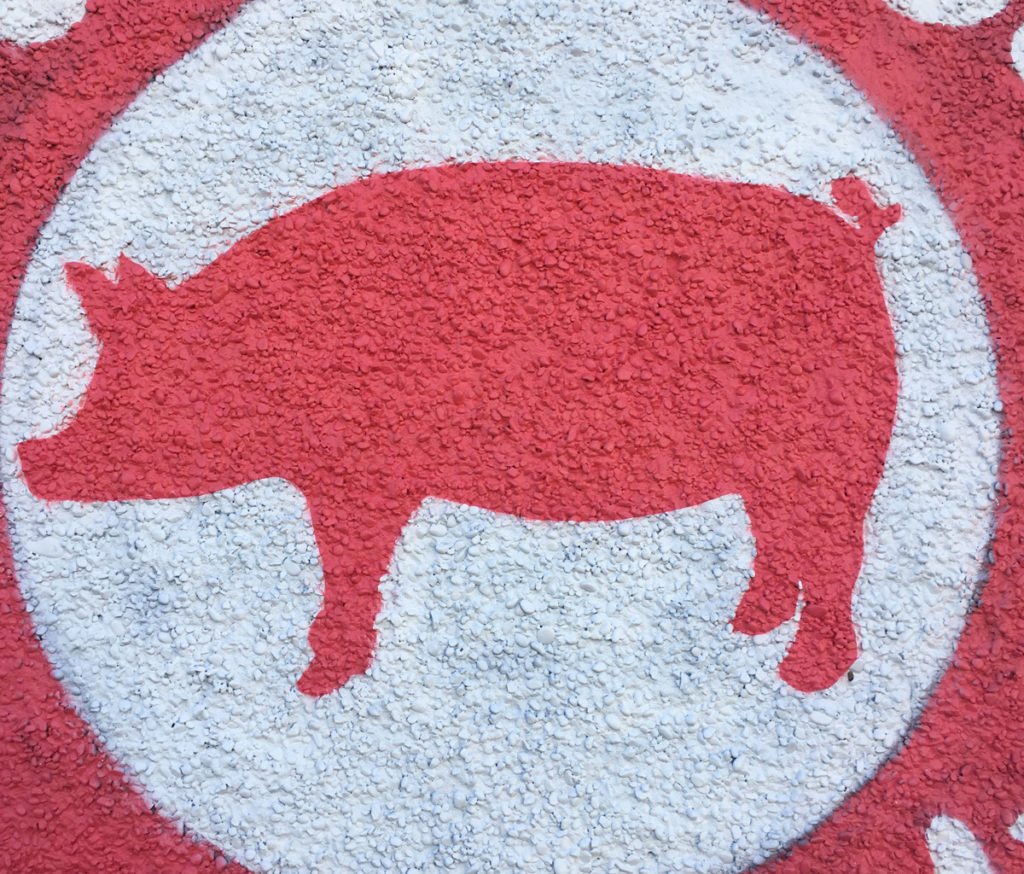 Finished Pieces
It was really a pleasure to paint this project for the lovely folk at Knipes who really looked after us well during our time there. The pieces came out really nicely so it was a satisfying job to do all round. Huge thanks to Knipes & Co for both the opportunity and for being so welcoming whilst we were there. If you're a bacon fan go and check them out as they definitely know what they're doing!
More About Knipes & Co.
You can find out more about Knipes & Co on their website, or find them on Instagram. Take it from us, their bacon is excellent.