Fresh Creative Co. were commissioned to add a splash of colour to El Mercado, an excellent Mexican food stall situated in Swansea's indoor market. We were charged with designing and painting the boards that make up the front facing sides of the stall.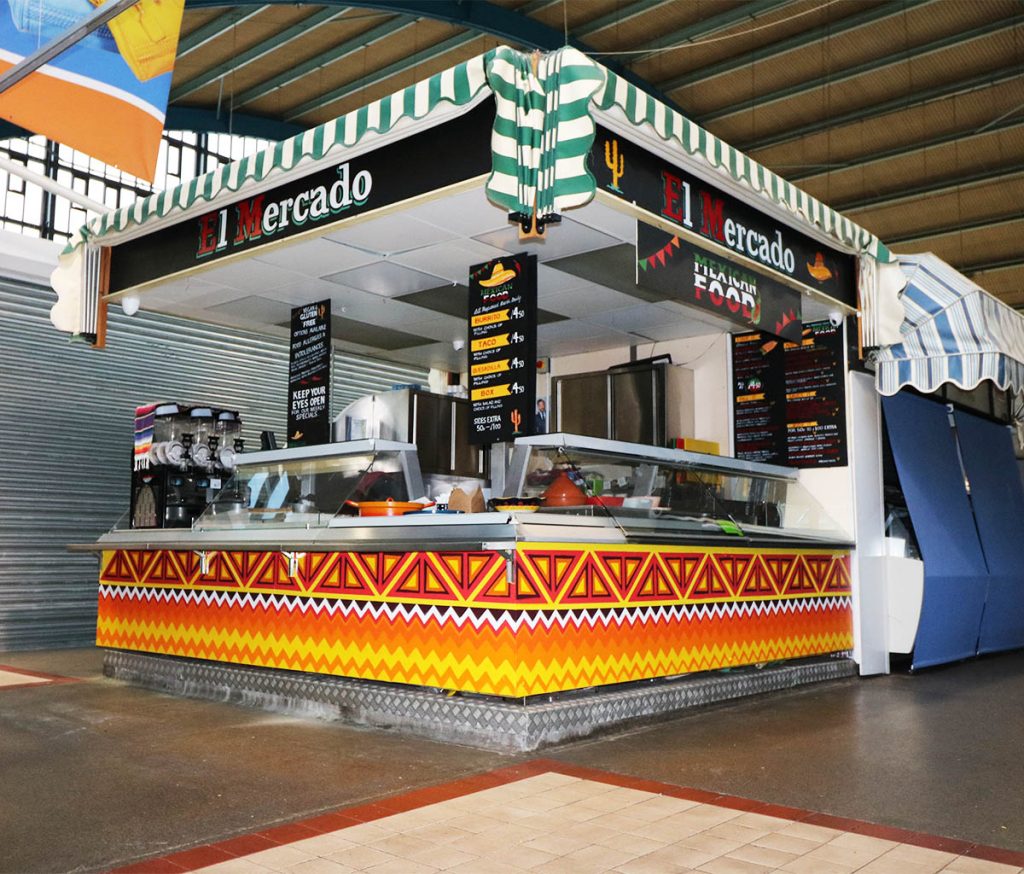 Process
We began the project by mocking up a series of design possibilities, each with a Mexican theme, before presenting those options for a final approval. It was decided that in this instance we would paint a geometric design on the lower half, based on the classic textile designs of Mexico which have a long history. The making of fibres, cloth and other textile goods has existed in the country since at least 1400 BCE.
Once we had decided on our design our next challenge was to paint the boards themselves. Originally we had planned to do this in our workshop, but unfortunately the boards turned out not to be easily removable from the stand and so we changed our plan and decided to paint them in situ, on the stall itself. This change of plan gave us a more limited window of time than we would have had in the workshop as we had to paint the boards around the market's opening hours. For this reason, we also had to change our approach as to how we went about painting it. Originally we had planned to mark it all out by hand, but now we had a tighter time frame to work in, we decided to make a pounce pattern in advance. This meant that we were still able to mark the design out how we would have anyway, but instead of doing this directly onto the boards, we marked it out on tracing paper, which we we then perforated using a pounce wheel. We then took this to site which allowed us to quickly and accurately transfer the design onto the boards.
Once we were on site our first job was to lay down dust sheets and mask off any areas that we wanted to protect from unwanted paint. We then painted the boards in a bright yellow using emulsion.
Once this was dry we then marked up the design as previously described. As soon as we had the design accurately laid out on the boards we then used spray paint, alongside a combination of masking tape, straight edges and a series of stencils which we had also made in advance to aid us in completing the job. From here on out it was a process of working methodically, from the top down, adding each stripe of colour before moving onto the next.
Lastly when everything was painted, we went back through the piece with a brush and touched up any parts where we had been left with unwanted overspray.
Finished Piece
We were really pleased with how good this looked on completion, the colours and design made such a difference to the stall, giving it a much brighter, more vibrant style. If you're in the area and a fan of Mexican food we highly recommend dropping by El Mercado, who were gracious enough to have one of the tastiest burritos we've ever eaten wrapped and waiting for us when we arrived; thanks El Mercado.