Melbourne is known for its vibrant street art scene, with many of its laneways and public spaces featuring colourful and intricate graffiti.
Some popular locations to see Melbourne street art include Hosier Lane, AC/DC Lane, Union Lane, and Caledonian Lane.
Hosier Lane, located in the heart of the city. Is perhaps the most famous of all Melbourne's laneways for street art. It's a narrow, cobblestone alleyway that's covered in layers of spray-painted graffiti and murals. It is even host to world renowned artist Shepard Fairey
AC/DC Lane, as its name suggests, pays homage to the legendary Australian rock band. Featuring murals of the band members as well as other music-related artwork. Noted artists have included Jimi Hendrix, Prince and Pink Floyd.
Union Lane, located just off Bourke Street Mall, is another popular spot for graffiti. Colourful and intricate graffiti cover the walls. Not to mention a few street performers who add to the lively atmosphere. Caledonian Lane is a smaller laneway that's tucked away near the Queen Victoria Market. Often overlooked by tourists but is well worth a visit for its stunning street art.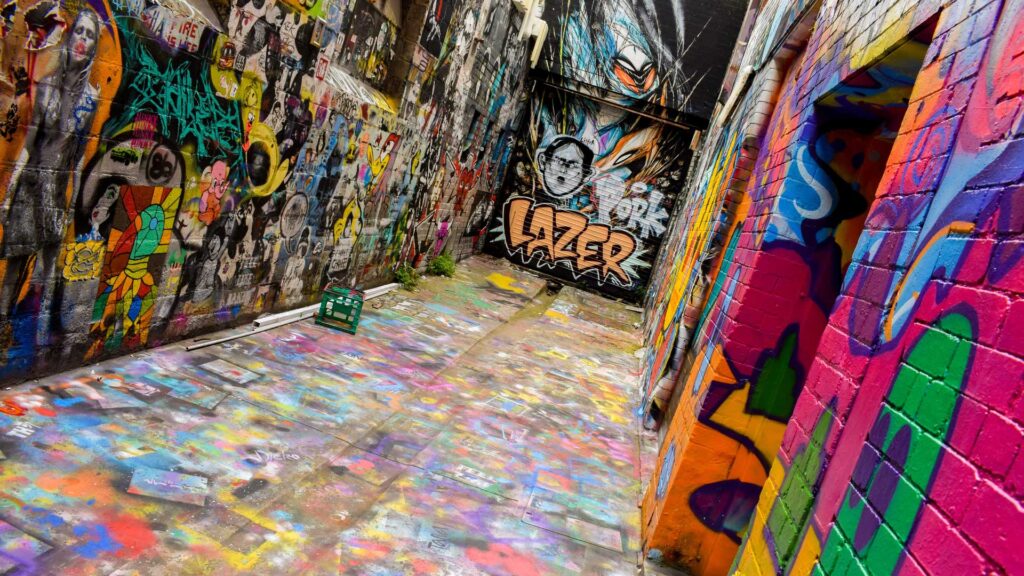 Blender Studios
Possibly the most infamous lane is Blender Lane. Home of Blender Studios.
Blender Studios is a renowned art studio and gallery space located in Melbourne, Australia, established in 2001. And has since become one of the most well-known and respected art spaces in the city.
Home to over 30 artists and creatives. Who work in a wide range of mediums including painting, sculpture, installation, street art, and more. The studio hosts regular exhibitions, open studio events, and workshops. It is a hub for the city's vibrant and diverse art community.
One of the unique features of Blender Studios is its focus on street art and graffiti. The studio's founders and many of its artists have roots in Melbourne's street art scene. The studio has played a key role in the development and recognition of street art as a legitimate art form. Also known for its support of emerging and underrepresented artists. Its commitment to providing a welcoming and inclusive space for artists of all backgrounds and experience levels.