623-feet long, more than 493 gallons of paint and about 3,500 cans of spray paint, and over 2 months to complete.
Eduardo Kobra created this one off piece for the 2016 Rio Olympic Games. This mural depicts five Indigenous people from five continents — a concept based on the five Olympic rings.
"These are the indigenous people of the world," says Kobra on the Rio 2016 official website.
"The idea behind this graffiti artwork is that we are all one. We're living through a very confusing time with a lot of conflicts. I wanted to show that everyone is united; we are all connected."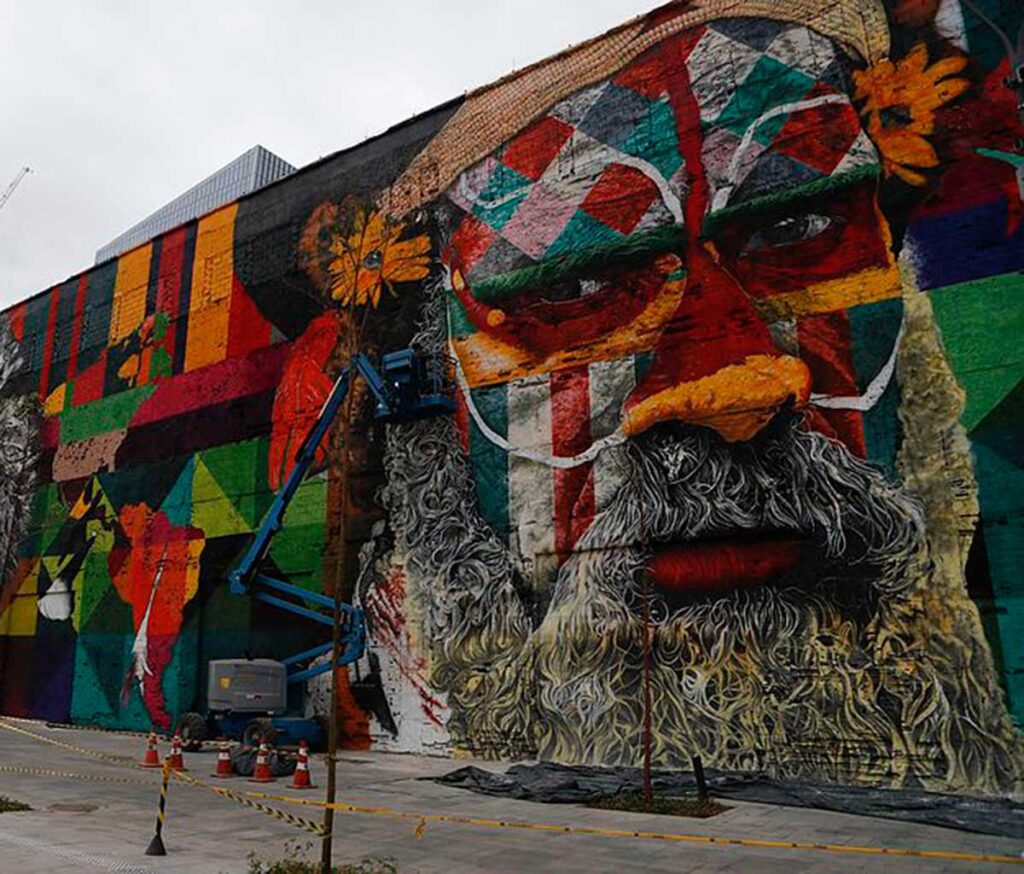 Who is Eduardo Kobra?
At the start the early works were only painted in Brazil. However in 2011 Kobra created his first mural outside his country. When France invited him to paint a wall about immigration in a neighbourhood of Lyon. 
Deviating from notable figures, Eduardo Kobra has also stayed true to the everyday human subject, maintaining his bold colour use to bring these individuals to light in his works.
Within the same vein, his use of black and white images is breath-taking when placed against his colourful checkered backgrounds.
The works are truly a labour of love, using methodical grid planning and masterful shading. Using swirling effects to complete massively-scaled portraits that are typically done on buildings, walls, and murals.
Nevertheless, historical figures are Eduardo Kobra's strong suit, evoking memories of moments past that still resonate with audiences today.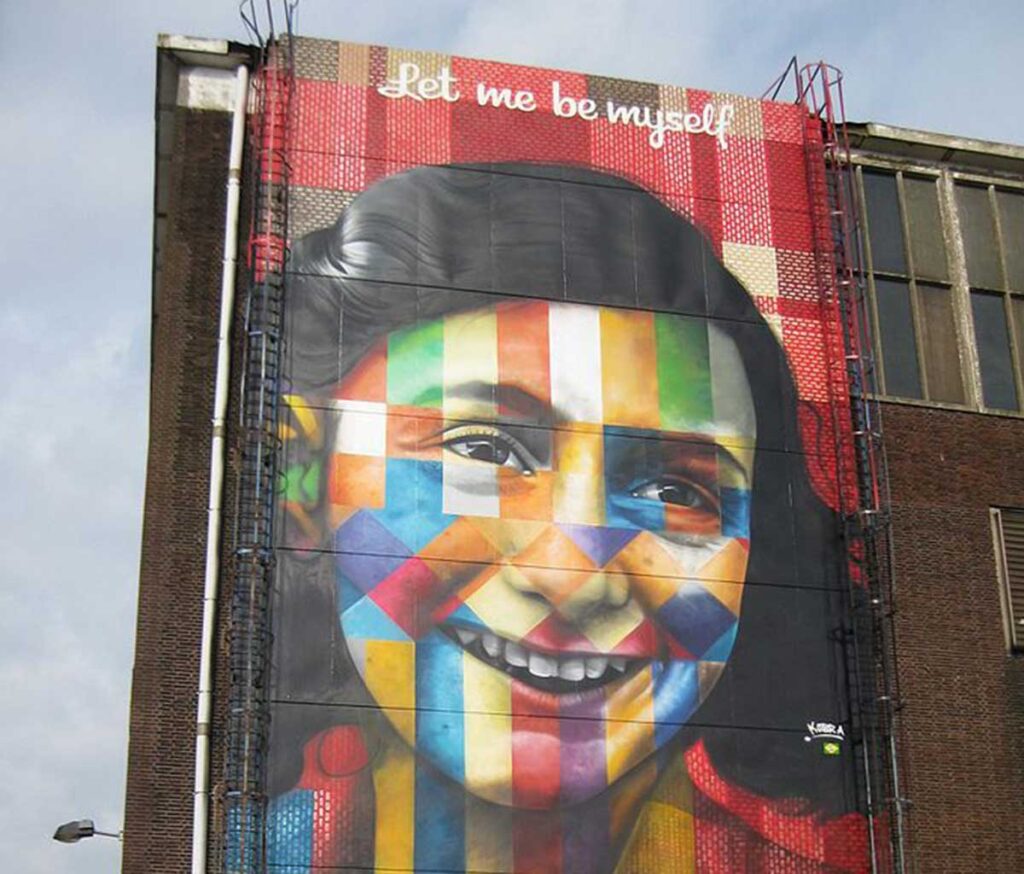 Other works
During the pandemic he had to adapt his scale and focus on smaller but still powerful ideas. Kobra painted a mini-mural called "Coexistence" on canvas.
True to his traditional style, it depicts five children from five continents praying behind face masks. The masks are printed with the symbols of five of the world's major religions: Islam, Buddhism, Christianity, Judaism and Hinduism.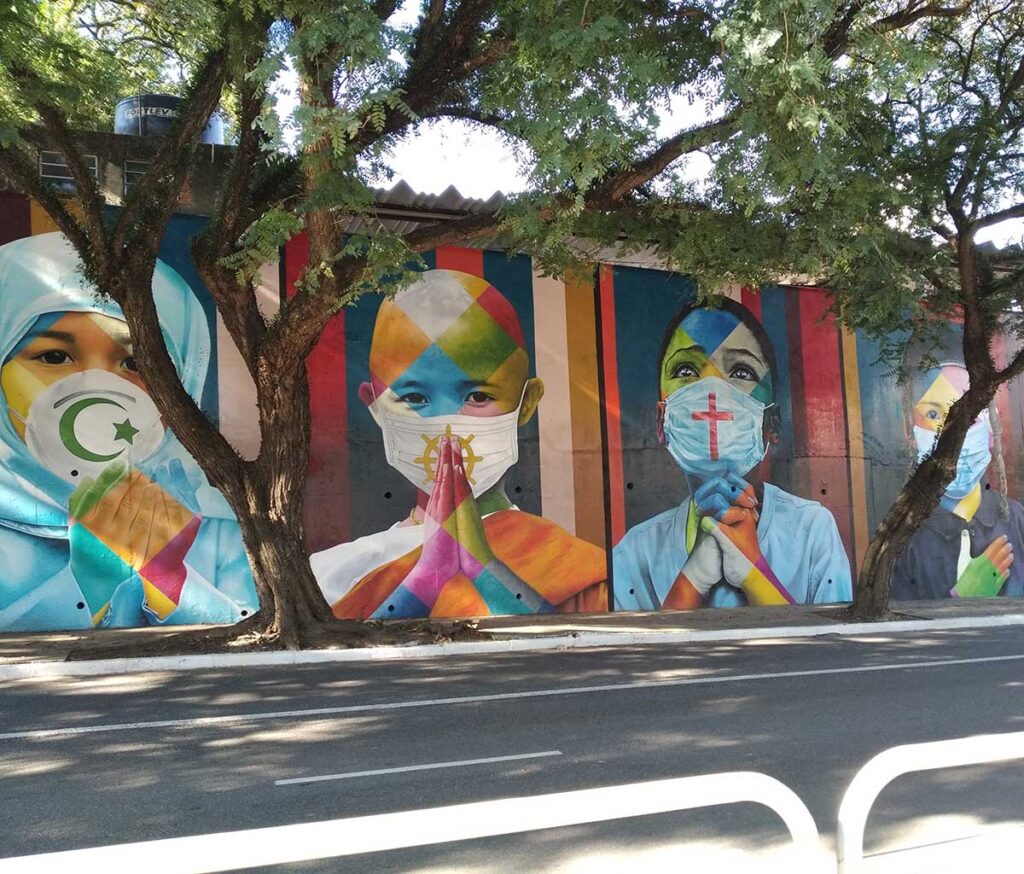 After this he worked on a meaningful mural at the United Nations Headquarters in New York City.
It was an unprecedented initiative of bringing street art to the UN's wall was approved by the UN Committee. They recognised that Kobra's art "is in line with the ideals of the United Nations."
The famous Brazilian muralist worked day and night to finish by 15th September a new mural measuring 45 ft x 78 ft, that's 3606 sq ft!
It came at a significant moment, as the High-Level Week of the 77th General Assembly took place at the UN from 19th to 26th of September.
His work, which shows a father who hands over the planet to his daughter. Kobra invites us to reflect on what future we want to leave for future generations.
The new mural at the UN is in perfect harmony with the themes used by the artist throughout his career. Including peace, tolerance, diversity, security, sustainable development, refugees, and human rights